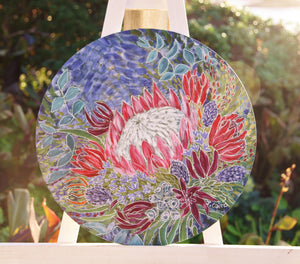 Size: 51cm diameter. 1.5 cm deep sides
Acrylic on circular canvas. Ready to hang with a hanging cord attached. Varnished with clear artist's varnish so you can gently clean with a soft moist cloth.
Still life is a new direction for me. This work picks up on the strands of flowers in earlier surf art and the odd garden scene such as "Backyard Bliss" 
This is the second circular work on stretched canvas I have done,